Cautionary case from Philadelphia on Monday...
Crane topples near Rittenhouse Square, killing 1...
http://www.philly.com/philly/news/break ... d=15585797
"A mobile crane working on a church steeple toppled near Rittenhouse Square this afternoon, killing the crane operator and injuring a woman standing nearby.
"The orange aerial lift, working at the First Presbyterian Church at 21st and Walnut Streets, fell at about 1:15 p.m., knocking down a streetlight, shearing off a stoplight and clipping the roof of a building on the north side of the street.
"Eyewitnesses said the crane operator was turning the machine when one wheel rolled over a cable access cover, the heavy lid gave way, the machine wobbled then fell..."
Lots of photos there at Philly.com from which the problem in this accident appears to be pretty clear...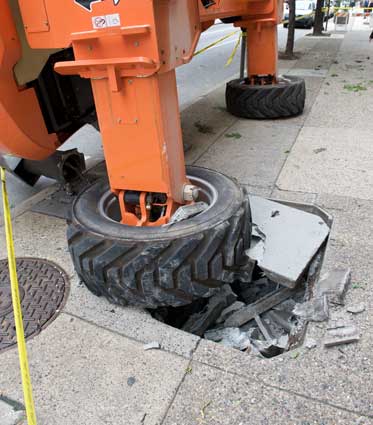 And then there's this dimension...
"The type of equipment involved in the accident, known as an AWP or aerial lift platform, is not technically considered a crane, and is not subject to the strict regulations put in place by Philadelphia last year in response to deadly accidents in New York and Miami...."
Site Admin
Posts: 1886
Joined: Tue Apr 13, 2004 6:59 pm
Location: Eugene, Oregon
---
Who is online
Users browsing this forum: No registered users and 3 guests